You bet! When I first started my Pirogue project I was unsure what to expect. I heard they were for skinny water only and were not very stable. I have been in some big water this spring and a more stable boat would have been more comfortable but have never felt like I was going to flip. My next boat will be for those big situations but it may be hard to beat the simple design of the Pirogue. My favorite thing is I can throw it on the truck and go, it is easy to load all by myself. I will have to say I have caught more fish this year than I ever have. I have been fishing small ponds and reservoirs close to home. My fishing buddy(four year old daughter) and I spent last weekend bringing in loads of bream, probably the best weekend of my life, not because of the fish caught but the time spent with my girl on the water. It was amazing to watch her cast and reel in fish all by herself. I think she has caught most of them because I was busy putting on worms for her
I have also been doing some Bass fishing with a friend from w@!rk and we have caught our fair share of Bass. Today we loaded the boats at lunch time and headed to a small lake close by after w%@k.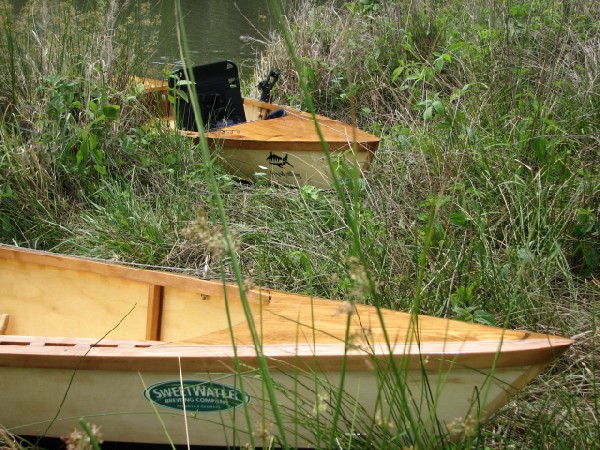 We were both having decent luck catching some small guys.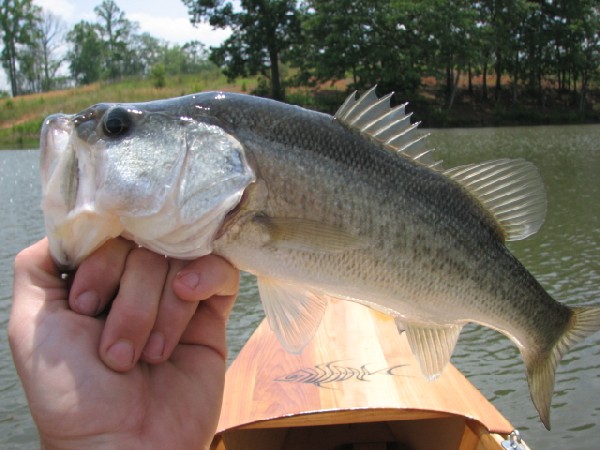 I have caught loads just like that one this spring but have been hoping for than big one. After fishing for a couple of hours I moved to some shade in a little cove. I had caught nine fish and wanted to get to ten before heading in. First cast next to a pile of branches at the waters edge I got a small bite so I kept working the area. On about the sixth cast I had a nice fish on, it did not take long to realize it was BIG
I got her in the boat and had a couple of photos then released her for another day. I love my new fishing boat!