Along about Christmas time 2003 I was sitting in my Quetico room checking the boards and chatting and thinking about the up and coming new year. Hoping that it held a Quetico trip within its bounds. The last few months in talking with friends on the CCBB I found a friend that he as well as I were interested in doing a trip together. As I was sitting there I was thinking about all the things we all think about in the planning stages. First and far most important who's going? Well Troutlane and I had been talking some the months before about doing a trip. So as things would have it we were planning a new trip.
Shortly there after my Son pops in the Q room to ask his Dad a question. The one and dearest question that all of us as fathers look and wait for. I believe it was put to me as, Hey Dad, can I go with you to Canada this year. All in one motion I looked and said yes. I was so excited that I started the planning. Soon I told Troutlane of this and we were deep into the planning stages.
Three months later at Canoecopia TL and I were sitting at a table laying out the route. Many choices arose, where would we enter? Where should we go? Soon we had our route and then setting the plans into motion.
The plan is to enter at Nym Lake heading into Jesse Lake. From there to where ever chose. Also included in the trip were Mrs. Troutlane and TL Jr. Still not sure if we would travel the entire trip together or split up. We decided on a date, and proceeded to get two permits at Nym Lake the same day. Well I can tell you if you don't know, you do now, Nym Lake only has two permits allowed per day for entry. That plus the fact that it was a Holiday Weekend in Canada made it impossible to even get one permit. We both started calling 10 min before they opened up on the first day allowed for permits. That night TL and I touched base on the phone to regroup and figure out what our next move was to be. We decided to try for Monday thinking most enter the park on the weekends. I managed to get a permit but we only had one.
So it was like someone was telling us to just stick together. I tell you though, when your entering and see that other party it does give you a feeling of reward. Just knowing that someone else is sharing this great place with you.
Permits we had, now for the packing and planning of the trip it's self.
Then about 10 days before the trip I got the news that this trip could be called off. I think we all worry about this as we plan our trips. I had a very ill Aunt and was told she didn't have much time with us. On top of that things were becoming tight with the dollars a few unexpected things that required spending my Q money. Three days pass and I find that this trip isn't going to happen. I was so disappointed, the hardest part would be telling my son. Packs were packed and ready but the funds were so close that I was afraid we wouldn't have enough to do the 1200 miles each way. Then 6 days before the trip my Aunt passed, a very sad and emotional day as well as a happy day knowing she was with her creator. I only mention this as my Aunt and Uncle were the one's that first turned this Indiana boy into loving the fishing and trekking in northern MN. Yes as a youngster I traveled with them and my Grandparents to fish on the Crow Wing Lakes in MN. Not realizing then but understanding now how that does tend to get in you blood.
So the decision I had made, I wasn't going to go. Just felt that with everything happening I should just stay home.
I had mentioned this to a couple close friends just telling them that I just felt it would be best not to go. The next day I receive a phone call, my close friend on the other end said you are going. He had made arrangements for me to get a canoe. So now the trip is on, well I'm hoping but still wondering if I should. Two night before the trip I'm at the funeral home. Still wondering if I'm doing the right thing by going. As I sat talking with my family I learn that my Uncle had also had a trip planned into MN. He was planning to leave the following week, which I had just assumed he wasn't going. After a long talk with my father he said I needed to go if I could. He's never been on a trip up there but from talking to my uncle he understood the constant lure that calls us there.
Then he tells me that my uncle is still going north, he said that my Aunt would have wanted it that way, and I'd have guessed that she had made him promise to go before she died.
So on Thursday night, after the funeral, I drove to get my son. We are on our road trip the next morning by 8.
On Saturday we picked up the canoe and headed towards the border. Very quickly we were across the border and heading east to Atikokan. Arriving in Atikokan one day before our trip mates, my son and I decided to camp at French Lake Camp Ground. Having no reservations we called to see if they had any openings. They had 4, so we drove to French Lake and camped that night.
Checking in at the hotel in Atikokan, the next day, was at 11 am. We headed there shortly after a very nice breakfast at Quetico North.
The Troutlane's arrived around 4 and we talked a while then heading back to French Lake for the permits and fees.
I'll tell you that if you ever have the chance to visit the library at French Lake plan a little time there, lots of interesting things to see and read. Back at the hotel we finalize the packing and head off for pizza in down town Atikokan.
It was hard for me to believe the trip was on and in fact we were there all ready.
Day 1
We all ate a quick breakfast at the hotel, before leaving for Nym Lake put in.
A cloudy day it was, and it looked like rain. Was this a sign of the days to come? The weather had been cool there the week before and they really hadn't had a summer yet.
Arriving at Nym Lake we unloaded the cars and portages to the dock below. We all sat for a photo and then shoved off. We hadn't traveled 100 yards and it started to sprinkle, soon turning harder so we stopped to put on our rain suits. Other than the rain drops splashing into Nym Lake the water was perfectly calm.
As we neared our first portage the rain had stopped and the sun was trying to pop out.
The portage isn't the easiest portage in Quetico but much easer than the many Quetico Portages I've been on. Just 167 rods up over a hill. Which I should ad ends at a very nice sandy beach.
Being my son's first trip I was a little concerned about how he would do on the portages with the pack. Fifteen years old he was a real trooper, not even thinking about giving up or resting on the portage.
Soon all 6 of us were paddling on Batchewaung Lake. I say 6 but it was really 5 of us right then, the night before Mr. and Mrs. Troutlane announced that they were expecting another paddler/fisherperson in the future. Congrats to the Troulane's!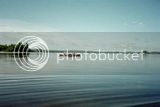 Batchewaung was almost like glass, the rain had stopped and the sun was coming out.
We paddled thru the narrows into Batchewaung Bay into the Narrows of Pickerel Lake. Deciding we needed a break and our bellies needed food we stop at a campsite on Mosquito Point. From researching this trip, there was once an old Ranger Cabin near there, as well as just west of there was an old lookout tower. All of which are gone now.
We took about 30 minutes to eat and stretch then back in the canoe to the portage.
The portage into Maria Lake isn't that long, only 47 rods. But thankful it was dry, actually very dry, this portage would be muddy in wet conditions.
Maria Lake an awesome looking lake. A short paddle to the south and we were at the last portage of the day. We met a group coming from Jesse as we paddled near the portage.
The 147-rod portage to Jesse Lake is for the most part flat. It looked as if there would be 3 major areas to cross which would but swampy under wet conditions. There were 3 areas, which also had cord wood piled rather deep, actually deeper than I have seen in the Quetico. At the Jesse side of the portage Troutlane points out the clearing there, that once was the camp loggers used back in the 1920's and 30's. The undergrowth was taking over the clearing, but, you could clearly see where the building once stood.
We took our time shoving off onto Jesse Lake TL Jr was splashing his feet in the warm waters. We all knew that soon, we would be in camp setting up and prepping to spend our first night in the Quetico.
The Troutlane Family had the destination picked for camp. We all were hoping it wasn't taken. Arriving at camp around 3:30 it was open. It took about 6-½ hours to get there but we took our time so we all could take in the first day of the Q.
After setting up camp we took the canoes out to gather firewood. The camp was an island site, which had very little firewood on it. After gathering a couple days worth of firewood we came back to camp and fixed dinner.
Soon we all loaded into our canoes with fishing poles in hand. It was Waldo time. My son having never caught a walleye made me I think, more excided than he was. Soon into the fishing he hooked one. Only to get it to the canoe and it got off. By the way it was the biggest fish of the week. But, TL said they don't count unless they are in your hand. Thinking back on the trip, you know I only recall seeing TL hold a couple fish though. Just teasing Troutlane. As the sun was starting to set my son and I headed towards camp. The Troutlane Family soon followed.
Back in camp I started a pot of swamp water (coffee). My son was working on the fire, as I made him some hot chocolate. Soon after the mosquito's moved in moving all of us to the tents. It was a perfect day, and a perfect beginning of a trip to come.
Day 2
We kind of slept in this morning. I guess the relaxation from being back in the Q was taking it's toll. The Trout's were out and about before us; I think it was the calling coming from the ghost of Jesse about finding the big Waldo that had lured them out early.
While they fished I cooked breakfast. for my son and I After which I decided on this beautiful warm morning a swim was in order. After convincing my son he soon was in too. Swimming in the Q is a rather scarce event for me. The last ten years it's been really cool to get in. As this was my first trip in the month of August since 1994, usually going in September.
We then decided to join the Trout's in fishing. But as we headed to the secret spot, they were heading back. They had their limit and were planning on a shore lunch. My son and I headed on to the spot just to try a few. Soon hooking a fish that again got off the hook. But then he hooked one, as I paddle to the shore he landed it in the canoe.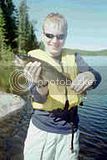 I had to get to the shore, you know a photo of the first waldo IN hand was a must.
Back at camp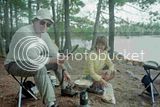 MORE TO COME