I don't how many of ya shoot ACP type pistols, but if you do, ya know how hard some magazines can be to push rounds into.... especially with some arthritis in your fingers and hands like I do. Anyway, I purchased a universal mag loader several years ago, and as age makes arthritis worse, the mag loader is becoming more useful. I have a 9MM- 45 Universal Mag Loader by maglula.com. Most reputable sportsman's stores have them. Around 30-35 bucks.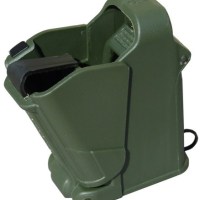 Not as painful loading mags now! Faster too.
There are some Chicom knock-offs out there, be careful if you shop for one.