Boy Now I am really going to stir the pot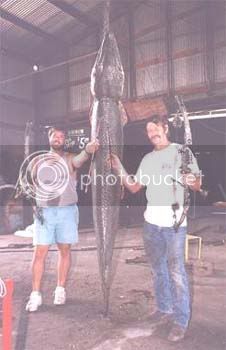 A world record for about 5 years,
Oh and by the way that age is a guesstimate,they are just now starting to study the gator gar,they really dont know if a 200 lb gar is 5 years old are twenty.
Now I am going to get on my soap box,I will tell you what hurts the gar population more than all the bowhunters combined
Dams I didnt cuss I mean the concrete things than hold back flood waters and generate electicity for your ac.
Where I live on the Brazos we have no dams from here to the gulf so we also have a tremendous gar population,and a very prolific one.I very seldom bowfish them anymore mostly rod and reel for them ,but I dont apologize for taking a trophy.
The gar in the pick was at her peak about as big as they get ,at the end of her life cycle,now I am not a tree hugger but I do consider my self a conservationist.
When a fish or an animal gets to the trophy point I would rather see it on somebodys wall than I had to find it floating
and turtles eating it.
This is my thinking on wild things,now I have a buddy that throws a fit when someone kills a poision snake ,or a squirel eating bird seed,Poor squirel ,why should he die so a bird can eat
Different views make the world go around,I respect your but just dont agree with it.
Ron