Well I got myself some new toy's.
Things are getting weird around here and I'm thinking the bear spray I carry needs a new friend. A Browning 3/4 length 1911, 22 long rifle caliber pistol has been it's previous buddy
Lately a lot of the stray or outside cats have been vanishing and I have seen some Coyotes on my walks. The bear spray was for the critters but in case it is not enough there needs to be something a little better and with more oomph. I have seen stray dogs running lose during my walks. They see me and vanish into the woods.
Figured something with a little more oomph might be nice. Now it's a stainless Steel , Kimber Micro 9 keeping the Bear spray company. It's a 7 shot 9 mm semi auto handgun. Accompanying it are two spare magazines plus the one that came with it.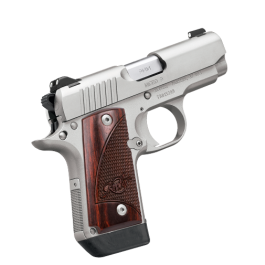 The easily concealed Micro 9 features mild recoil, smooth trigger pull and the intuitive operation of a 1911.

www.kimberamerica.com
It's securely keep in a Comfort Tac Ultimate Fanny Pack Holster when out for a walk in the woods.
The Comfort Tac is great , the pistol is held in it like a normal holster in the upright position. A spare magazine on each side of it.
There are three extra pockets , one each for my phone , wallet and incidentals. The best part is it looks like a ordinary , everyday , fanny pack and is worn on the side or in front of myself.
Designed with comfort and efficiency in mind, our fanny pack holster will allow for a natural quick draw, excellent concealment & room for ammo. Learn more.
comforttac.com