Hi everyone, here is our trip report on Massasauga Provincial Park
http://www.ontarioparks.com/english/mass.html
July 16th – 17th 2010.
This was our first time out on the boats, our first time paddling to a campsite (NO CAR!), our first time where no one else was around us, and our first time camping with just the two of us… no friends.
It was awesome.
Well I am happy to say we made it out to the campsite RIGHT before sunset Friday after work. (July 16th)
After hitting up Pete's Place to pay and get our permit the kid working there told us to go into the Woods Bay Marina to save about 45min off our paddling time so we can make it to the campsite before dark.
Once we got to Woods Bay Marina Neil ran in to pay while I started to set up the boats all the all the stuff we were going to have to take with us. (1 pirogue and 1 kayak)
Poor Neil took almost all the heavy stuff since he had the pirogue and was the fastest and easiest to pack-up.
We started to paddle and Neil told me we had to go northwest. I asked
"which way is north west"
Neil looks at me and says
"Well Bear Grylls says you take you watch and then something something is north."
After a good laugh Neil pulled out our GPS and we were on our way (good thing to because we were going the wrong way)
http://en.wikipedia.org/wiki/Bear_Grylls
About half way there we had to start encouraging each other because the wind was HARD to paddle through and all the speedboats. (And I had a huge blister that had ripped on my right hand)
Now remember we don't paddle. This is our first time and it was 4.2k to our campsite and we were RUSHING to beat the sunset.
Here is my awesome blister.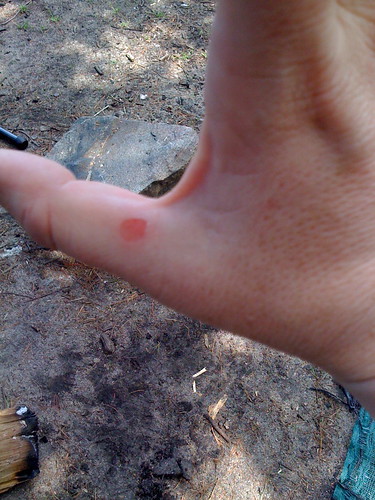 Once we hit the channel it was nice and we made really great time and then the second huge lake that our campsite was off of. When we saw our campsite I don't think either of us have ever been happier.
You can see the sun setting behind me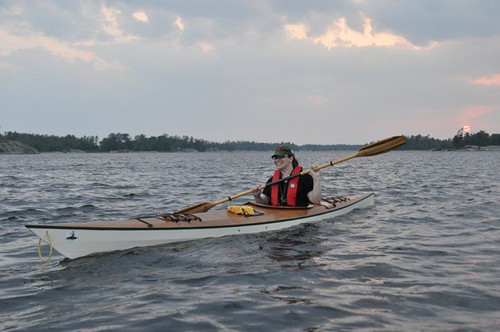 We get docked and start to unload the boats.
The boats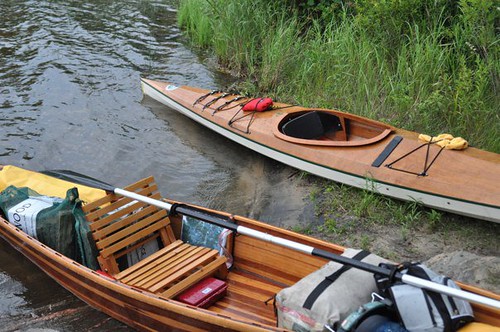 Once again Neil quoted Bear at me he said,
"Bear Grylls says shelter is the most important thing, then fire and food."
So we got the tent up in five minutes, which was a record for us. Considering it was a new tent dad gave us we had never put up before it was an impressive record AND an easy to put up tent.
Picture of the tent taken the next morning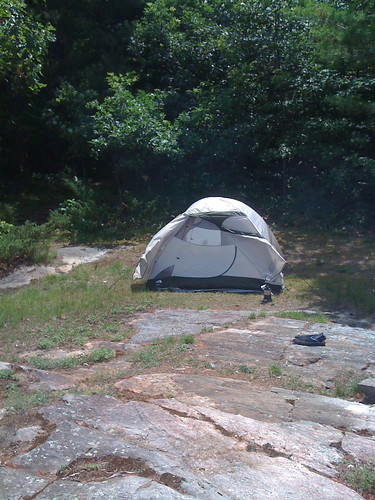 After that we got all the fire making stuff ready. GOOD THING we had that fire gel cause the wood got wet on the paddle out. Neil got a pretty good-sized fire going right as the sun was setting. We relaxed for a bit enjoyed the fire, hot dogs and a beer. Went out on the huge rocks to lie down and lookup at the stars. In Toronto there is SO MUCH light pollution it's a miracle we can even see the moon. So to be able to see the Big and Little Dipper, Seven Sisters and even the Milky Way was a real treat.
Then we packed up everything that had food or was touched with food or even scented in the bag (and the cooler) and put it up in the tree. This was another thing that had us laughing pretty hard trying to figure out how to the hell to get this 50lb bag pulled up into the tree high enough a bear can not get it. Once that was done we both felt pretty good about ourselves and Neil was feeling pretty damn manly. (And he should of!)
No bears!(picture taken Sat morning)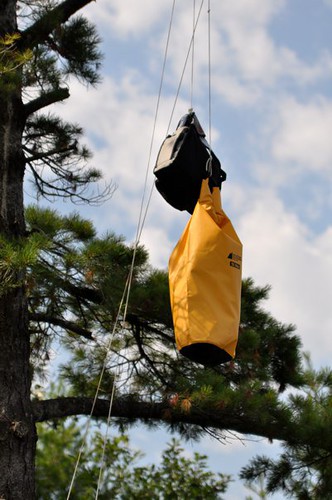 That night we heard raccoons trying to figure out how to get to the food (they didn't) and we got a bit of rain. Happy to say the tent didn't get wet inside which was a nice change for us.
Sat morning we got up, got the fire started and figure food is a good idea. Neil takes the bagged cooler down forgetting its tension tied up and it crashed to the rocks below. Neil looks at me and goes
"oh crap I wonder how the eggs are…"
We open it up and they were scrambled for us. (Had a good laugh about that too)
Sad broken Eggs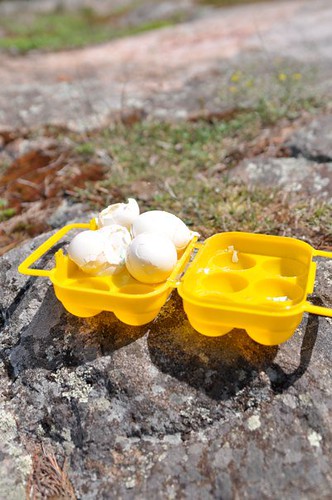 But Neil, not letting our crushed eggs bring him down, picks out most of the shell and gets it ready to go on the fire.
YAY breakfast!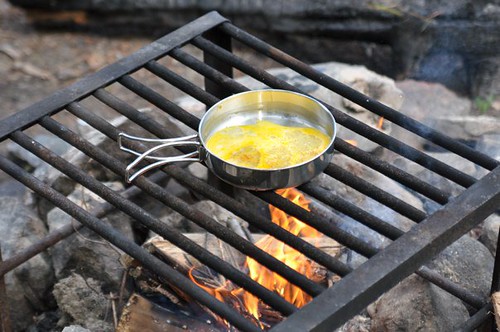 We even had water boiling for coffee. YAY!
I looked up the weather for Parry Sound on my iPhone and it called for thunderstorms Sunday all day so we decided to enjoy Sat and leave around 4pm (paddling and thunderstorms do not mix well together or so my dad told me)
After breakfast we looked around for a potty for me and explored the site a little. Found this guy and was very happy with it. (After removing the spiders)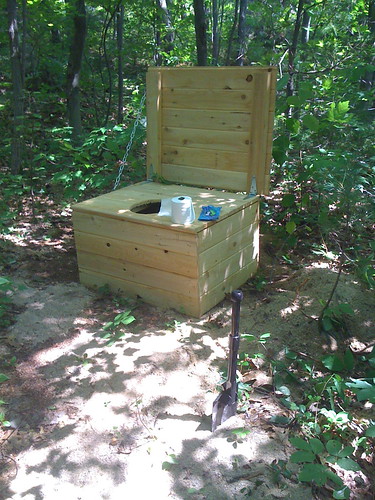 I thought I would have to dig a hole because some of the sites have potties and some don't. It was far enough from our camp I was yelling "NO BEAR" while I walked out to it to scare away any critters.
After that we thought we should enjoy the campsite in the daytime. It was so nice the wind was keeping all the bugs away.
Chilling on the rocks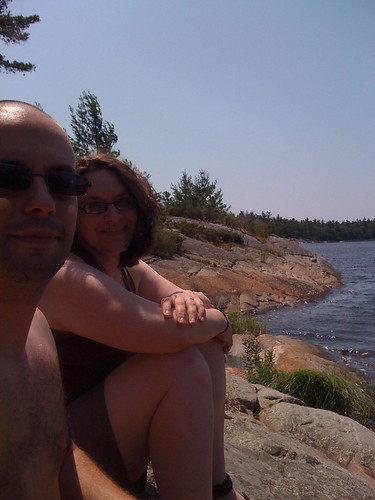 After taking this picture Neil even made a comment about how we are getting burned but are not aware because the wind was so cooling and nice. He was right we both got burned pretty badly on our shoulders and backs.
In Canada (at least Ontario North) there is a lot of granite and rocks. It's very pretty and makes for some nice scenery.
The view from our camp site.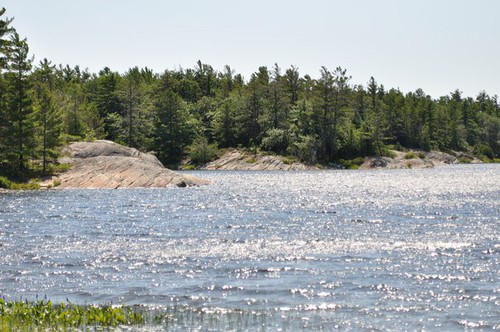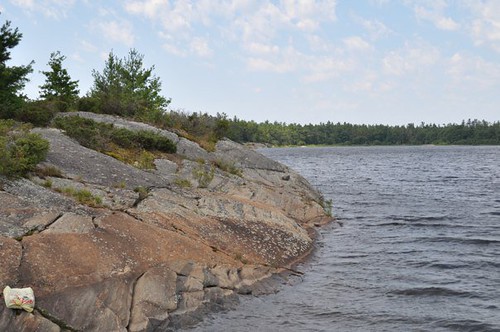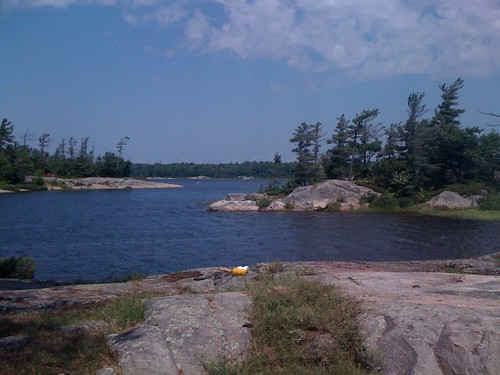 We even took a little bit of a dip in the lake to freshen up since the weather was so perfect.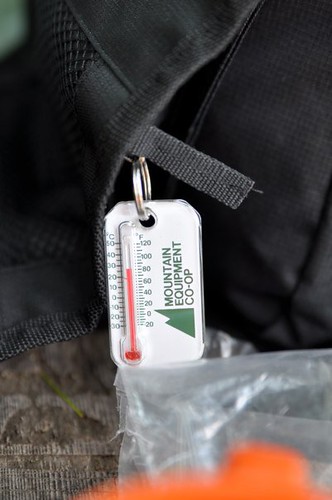 So here are a few of our campsite.
View from our Tent.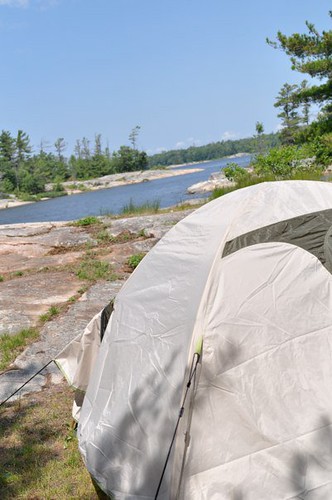 Neil and our fire/cooking/hanging out area.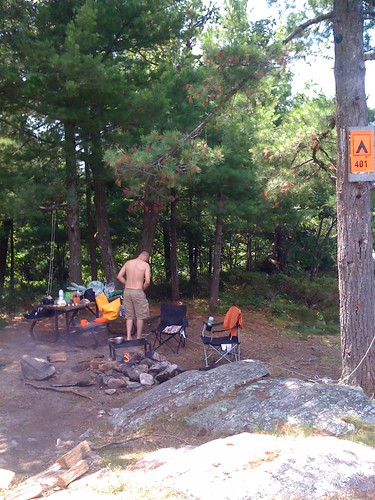 Neil sharpening a stick for us to make hot dogs before we leave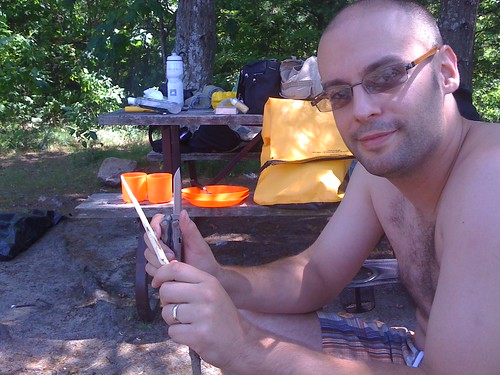 Campfire Potatoes (wash them at home then cut them in half and cut little divots in them to put butter in. Put back together and wrap in foil. Then throw them in the fire for a few hours)
YUMMY! (I even brought cut up cheese for Neil to have on them)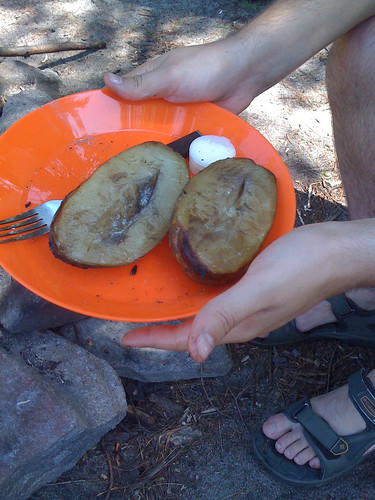 After hanging out for a bit we packed up and started the trek back. This time Neil put the heavy stuff in my boat since it cuts the water better. We wanted to take our time and enjoy the paddle. HOWEVER wind and speedboats had another thing planed for us…
The lake leaving our site was hard to paddle because the wind was hitting our left side so we had to try to fight the wind and stay away from the rocks. We just wanted to make it to the channel to enjoy the calm wind and have a water break.
Rough Winds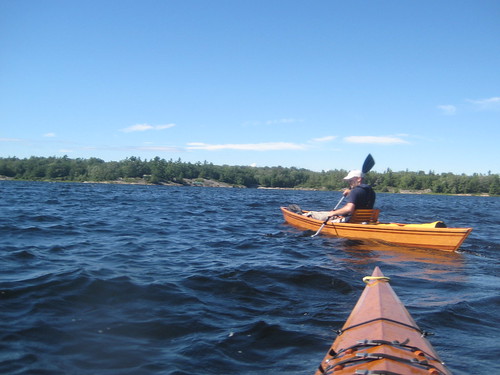 The water was getting close to going into Neil's boat and it was crashing over me. Good thing I had used the splash skirt this time.
Once we got to the channel and took a break.
You can see the pretty rocks.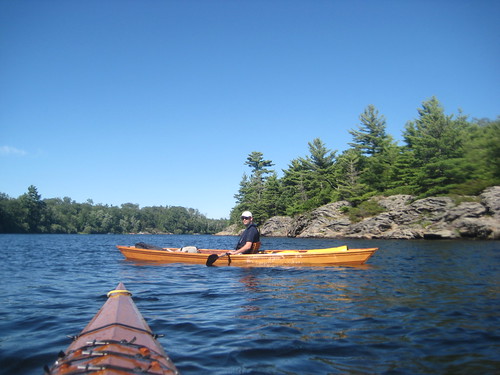 Here we are taking our time and enjoying the lack of wind and asshole speedboats.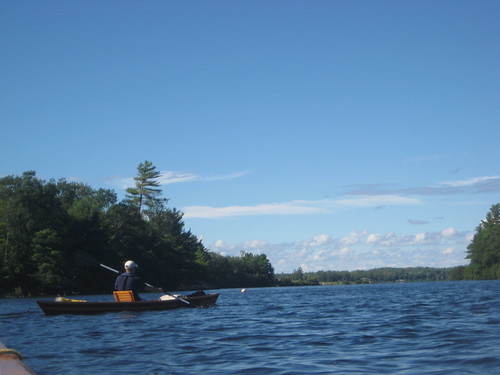 Once we got the final lake, the one the Marina was on, all hell broke loose. Now about 99% of the speedboaters would slow down when they saw us. Neil was fighting with his boat because the wind kept turning it really hard and I was fighting with my boat cause the waves wanted to knock it over. The waves kept hitting my left hand side so I was killing a lot of time turning into the bad waves so I wouldn't tip.
Then comes along jerk-face dingle berry in a speedboat racing toward me. I held up my paddle and was lowering it over and over to tell him to slow down. I was worried the water was going to go into Neil's boat.
This jerk ignored me and RACED by me and then waved at me. I put my paddle down and started to scream profanities at him while giving him a double bird salute. (flipping a bird with both hands) Then I had to turn into the waves so I would capsize. I was ENRAGED.
Neil asked me if I was okay after he yells,
"I AM NOT HAVING FUN, this is not fun this SUCKS."
While hitting the waves with this paddle trying to stop them from flooding his boat.
I yelled
"OH yeah I am GREAT. I am fueled by anger and I have it in me to get to that marina."
And I just started paddling like a mad woman.
We get there and another boater saw everything that happened and he was MAD. He said what that guy did was illegal and should have his license revoked.
So what did we learn on this trip?
The sites are beyond beautiful, so peaceful, the water was nice and we had a great time camping. But next time we need to research the water to make sure its not a huge open lake that lets speed boats on it.
I think our next paddle trip will be a river.